Taking care of your car is, in many ways, like taking care of your health. While it is important to take your car to the shop for regular maintenance, as well as obvious emergencies, it is equally important to develop some basic habits for keeping your car in top shape at home.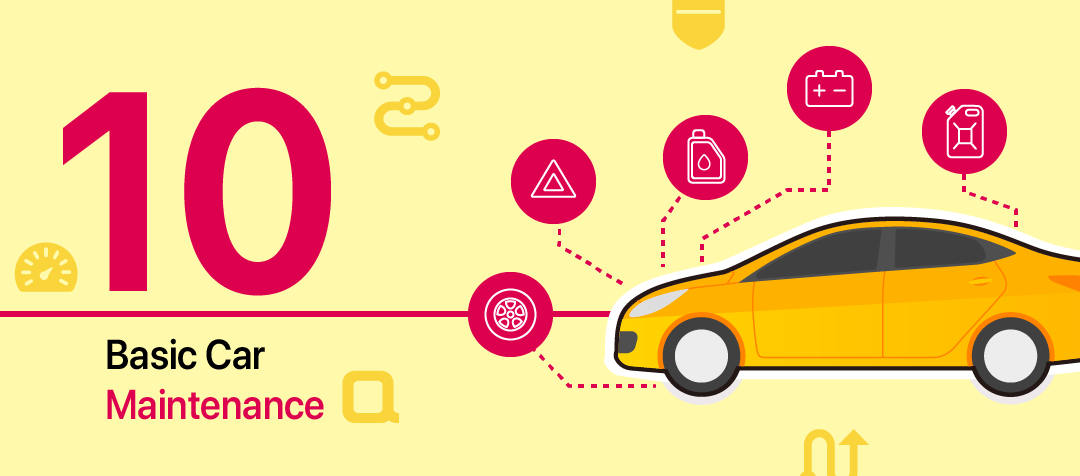 1. Keep an Eye on the Fluids
Keeping the motor oil, power steering fluid, and coolant topped off is an easy way to maintain your car's performance. Refer to your owner's manual or ask your mechanic to show you how to check your fluid levels and where to pour in more if needed.
2. Owner's Manual
Periodic references to your owner's manual are extremely valuable. There is so much going on with our vehicles that no one can be expected to remember all of it.
3. Watch the Warning Lights
Cars have elaborate systems of sensors and warning lights that will tell you everything from whether you forgot to replace the gas cap to the fact that one of your tires is low on air. Learn what each of your warning lights means and how to resolve it.
4. Check the Tire Pressure
Correct tire pressure is absolutely essential for proper vehicle handling, and to minimize the risk for premature wear and even complete tire failure (blowouts). Yet tires lose air every day. Your car might have a tire pressure warning system, but it will engage only when a tire drops down to a dangerously low-pressure level.
5. Feel the Car's Operation
Pay attention to the way your car feels when it is operating normally. Once you understand this baseline, you can begin to notice when something is wrong. When a new "feel, vibration, shudder, jerk, bump or hesitation sets in these are all signs that something has changed.
6. Listen to Your Car
Machines do communicate audibly – they make all sorts of "Normal" sounds so when abnormal sounds begin to appear this is your car telling you to take it to your trusted car care center.
7. Lighting Check
Inspect exterior and interior lighting once a month. Also, refer to your owner's manual for a proper understanding of all lighting systems used in your car. This might seem simple and intuitive but some lighting systems only come on under certain conditions.
8. Do a Walk Around
Driving is a serious business therefore it's a good idea to walk around your vehicle at least once per week. In fact, commercial drivers are required to do pre and post-trip inspections each day.
Look for body damage.

Check your wiper blades to ensure that they are still in good shape.

Inspect tires for abnormal wear, punctures or cuts.

Test all the locks, windows, and even the sunroof (if equipped) to make sure they operate easily without sticking.(You may need a window for an exit in a wreck)
9. Keep It Clean
Taking care of cosmetic details such as washing and waxing helps to improve the life of your car's paint, and can prevent the formation of rust.
There is no substitute for mechanically washing your car – hand washing. Hand washing removes the film that makes paint appear dull.

Wash wheels and tires.

Wash glass – inside and out (including mirrors).

Keep the interior free from debris that can obstruct your feet on the control pedals.

Vacuum the floors.

Remove leaves from vents.
In addition, the better your car looks and smells, the more money it will be worth in an eventual trade-in.
10. Find a Trusted Mechanic
It is absolutely vital to your car's health as well as your financial health for you to form a relationship with a mechanic you trust. Working with the same mechanic throughout your car's life lets he or she get to know your car, its full history, and its individual quirks. This can make troubleshooting easier and help your mechanic quickly hone in on just the right solution.
Previous Articles