BIG NEWS: Our New Referral Program is started! Send your friends the devices for 100% FREE in buying and shipping!
For referrers:
Compared with the old one, the New Referral Program allows you to invite your friends to claim the device for free, and no longer need to pay any extra money. And you can earn $3 Bucks for each of your friends who successfully claimed and used it.
And you'll get an extra $10 Bucks for every 10 successful referrals.
By going to the Bucks page, you can find the entrance, click on it, copy the invite code and share it with friends, then they can redeem a free device. In only a few seconds, you can spread the best cheers with your friends.
Don't have that many friends to invite? No worries, here are some secret tips for you: How to refer more people?
For referees: (Important!)
Welcome to the ZUS app! Please follow the steps below to redeem your device:
First, let's download the ZUS app on App Store or Google Play;
Register a new account > Log in > Choose 'I don't have any ZUS devices'
Go to the Bucks page, you'll see a card saying 'Your FREE Device';
Click on the card and paste the invite code;
Fill in the checkout information.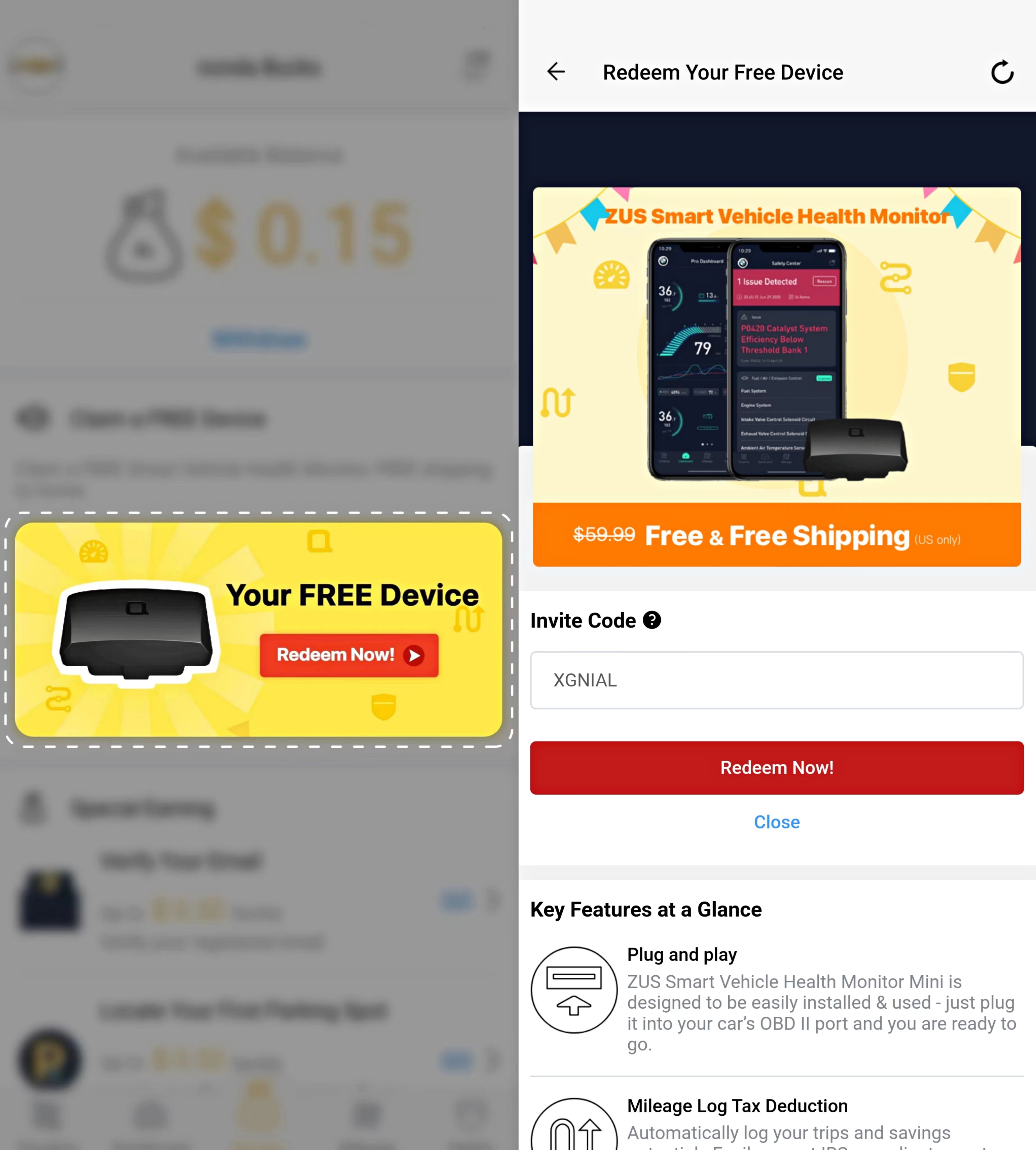 OK, by now, you just need to wait for the delivery.
The program is for the US only, so the invitees should be living in the US.

Newly registered users can redeem a FREE ZUS Smart Vehicle Health Monitor Mini with the invite code, and a user can only redeem once. All the order information will be manually reviewed, and if multiple orders are found belonging to the same user (such as the same phone, app, phone number, address, and location), the rest of the orders will be canceled based on our judgment.

We will not reship if your package is lost due to problems like express delivery.

We do not provide replacement services due to any incompatible issues.

Due to the limitations of courier service area and cost, some remote areas may not be shipped.

We reserve the right to interpret the details and rules of the program and to end the program at any time.

Feel free to contact us via

Settings > Help & Support > Feature Request

if you have any problems.