Tips:
After you unbox ZUS, you will need to pair the ZUS Smart Charger to your smartphone in order to access features such as the car finder, car battery monitor and mileage log. Please go ahead and download the ZUS app via the Apple App Store or Google Play.
The key for pairing are:
Turn on

GPS+Bluetooth+Internet

of your phone and ZUS should be

blinking

(not off/on) before starting to pair.
Pair the receiver in the ZUS app instead of the system Bluetooth menu.
If the ZUS app can't find your ZUS, try restarting your phone, check if your car is on (not ACC) and place your phone next to ZUS, and then try again.
ZUS lights Indicator:
Blinking: ZUS is not connected/Paired with App. Please turn on Bluetooth+GPS+Internet and ZUS app.
Keep On: ZUS is connected with ZUS App and the connected phone/tablet is nearby. First, please make sure you pair ZUS in the ZUS app not phone system Bluetooth. Unpair from system Bluetooth and try App instead. Secondly, You may switch off your phone system Bluetooth to see if it's connected to this phone. If it still keeps on, please check if the ZUS app is installed in another ios/android device and that device should be nearby
No lights: ZUS is not connected with the cigarette lighter. Please plug in again/try in the other car.
If after trying the above steps and tips and it still doesn't work, you may contact us at cs@nonda.us with the error screenshot and your app account. Our agents would respond within 1 hour.
What to do if ZUS fails to pair with my phone:
Tip #1: Check the step-by-step instructions below to make sure that you didn't miss a step. Please make sure that the three dotted lights on ZUS are turned on and blinking before starting to pair.
Tip #2: If the ZUS app can't find your ZUS, try restarting your phone (or switch to airplane mode twice) and check again.
Tip #3: If a pop-up message appears that says ZUS is owned by someone else and that you need to send a request, try logging out of your ZUS account and logging back in. If you still cannot pair ZUS to your phone, please contact our Customer Service at cs@nonda.us with the email address of your ZUS app account. We'll help you reset.
Tip #4: Do you have a compatible phone? ZUS works with phones that have the following operating systems: iOS 8.0 or newer or Android 5.0 or newer. You can find your phone's operating system (OS) under your phone's "settings". If you don't have the proper OS, please upgrade your phone's OS if applicable.
TWO important things to note about the pairing:
#1 When ZUS is paired to a phone for the first time, it is hard-binding - meaning no one else can bind to the ZUS charger without the phone owner's permission.
Let's say you bought a ZUS charger that's plugged into your Ford Focus and that ZUS is paired with your iPhone 7. In order for someone else to be able to pair to the ZUS charger while they drive your Ford Focus, you'll need to grant them permission, which you can do on the ZUS app. Click here to learn how.
#2 ZUS is hard-bound to your phone and not your vehicle. This means that you can take your ZUS and plug it into someone else's car and drive that car. ZUS should work as usual.
Step-by-step instructions to pair ZUS:
Plug ZUS into the cigarette lighter, start the car engine and three dotted lights on top of ZUS to start blinking. Once they are blinking, ZUS is ready to be paired.

Open the ZUS app with Bluetooth+GPS+Internet turned on. Log into your ZUS account or create a new one, choose "+" at the top right corner and choose the device. The app will search for and connect with your charger automatically.

You should see the car battery voltage in green and the three lights on the ZUS charger stay on. This means that ZUS has successfully connected to your phone.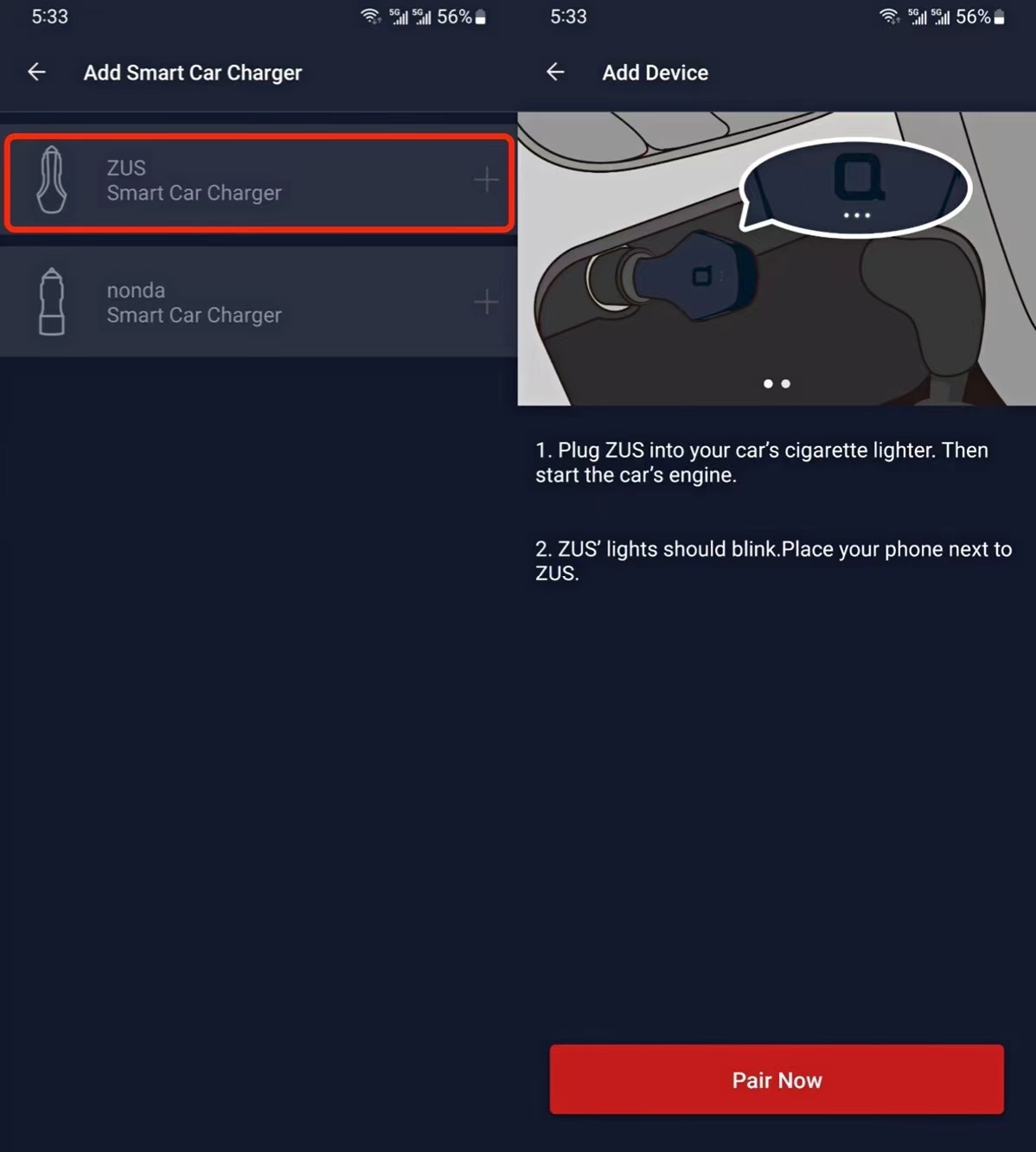 Video Instruction
Check out these other related content: